Whether you're a curious pleasure seeker looking to try something new or have already discovered the joys of anal play a long time ago, the right toys and accessories are the key to getting the most out of all your experiences. The following are some options to keep in mind if you're looking for some choice selections that will keep you (and any partners you'd like to include) coming back to your go-to pleasure chest again and again.
1. Anal Fantasy Beginner's Bead Kit
If you're new to anal play (or are looking to initiate a partner who is), a good string of anal beads is ideal for getting used to some of the unique sensations involved. This comprehensive beginner's kit comes complete with three different body-safe bead strings of varying sizes, so there's something here for pleasure lovers of every experience level. Start with the slimmest and smallest string. Then move on to the others when you're ready or looking for a new experience.
2. Jelly Pleasures 6-Inch Anal Tickler
Jelly toys are particularly good fits for anal play, as they strike a terrific balance between firm and flexible – perfect for activating all those secret nerve endings and hidden sweet spots! At six inches long, this cleverly beaded tickler from Jelly Pleasures is big enough to curl your toes but accessible enough for those who are new to insertable anal toys. It's also made of hygienic, body-safe PVC jelly, so you don't have to worry about it jeopardizing your health. You can simply relax and enjoy the sweet sensations!
3. Velskin Sidewinder
No collection of anal toys can be considered complete without a solid butt plug or two and the Sidewinder from Velskin makes an excellent choice from every angle. Dimensions that are equal parts filling and approachable combine with a sensation-inducing corkscrew design for maximum pleasure. Plus, this body-safe design is a perfect fit for any type of play scenario. Wear it while making love to enhance your experience or leave it in place all day long while you go about your day. A slimline base is flared for safety, but also comfortable enough to make long-term wear feasible.
4. Glass Erotic Play Anal Plug w/ Blue Swirl Handle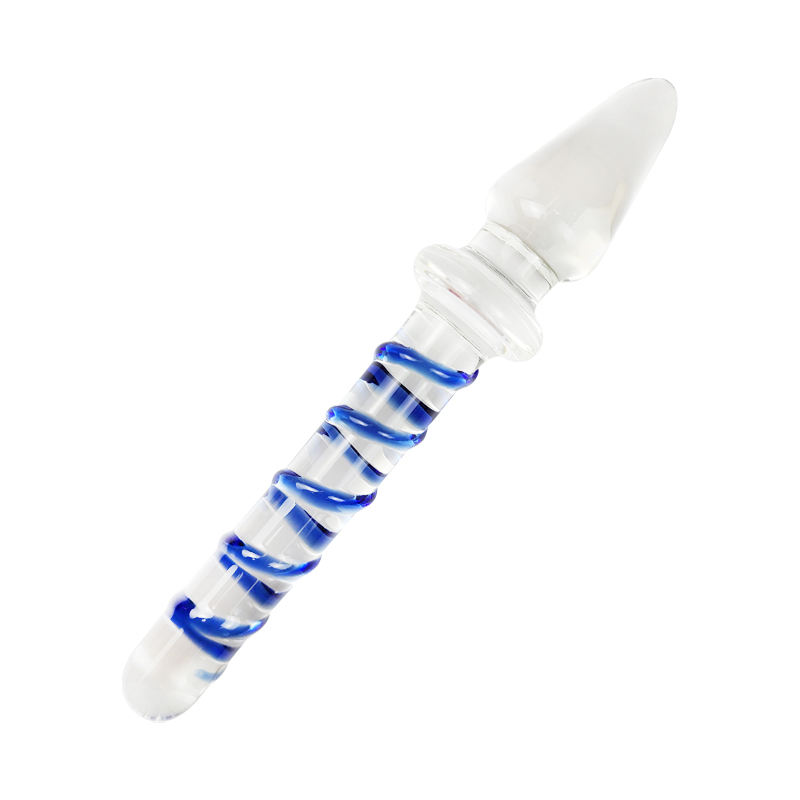 Although lots of toy materials lend themselves well to a wide variety of play scenarios, glass is really in a class by itself. It's smooth, sleek, and hard, so it's terrific for stimulating insertive play. It's also great for experimenting with temperature, as all you need to do is dip it into a bowl of cold or warm water before using for some really interesting thrills. This beautiful swirled plug from Glass Erotic Play is double-ended, so you get two experiences with just one toy. It's also so pretty you may want to consider leaving it on display at all times.
5. Metal Pleasure Play Anal Plug with Ball
If you're an experienced anal play lover who also enjoys a little BDSM action now and again, an anal hook is something you'll want to take for a spin eventually. This classic stainless steel option from Metal Pleasure Play is tough, hygienic, and practical enough to make responsible play simple from start to finish. Plus, the balled end brings a lot to the table in the sensation department. Whether you like to use hooks to train your submissives or encourage them to hold specific positions, this is one hook you won't want to be without.
6. Glass Erotic Play Anal Plug Tail
Not every kinkster likes to play it completely straight at all times. If that sounds like you or your favorite play partner, then consider taking your plug play up a notch or two with a fun fantasy tail like this gorgeous option from Glass Erotic Play. A tough, chip-resistant plug is made from virtually indestructible tempered glass for an experience you can trust. A beautiful, luxurious tail adds visual appeal and whimsy that's fantastic for roleplaying, photoshoots, kinky costume parties, and more. Let your creativity go out of bounds!
7. Anal Eze Lube
If there's one thing that almost always makes the difference between a spectacular anal play experience and a bad one, it's lube. Don't make the mistake of thinking one lube is just as good as another though. Anal Eze was made specifically with the needs of your delicate, sensitive backdoor area in mind. To begin with, it's extra-thick, so it stays put and lasts long enough to go the distance. A gentle numbing effect helps ease any discomfort the receiver might feel. It's even flavored and scented to add even more deliciousness to your play!
Of course, these are just a few of the many backdoor-pleasing options you'll find for sale at Castle Megastore and elsewhere. Start your next anal play adventure today!